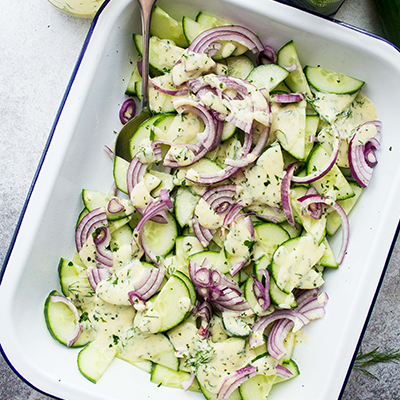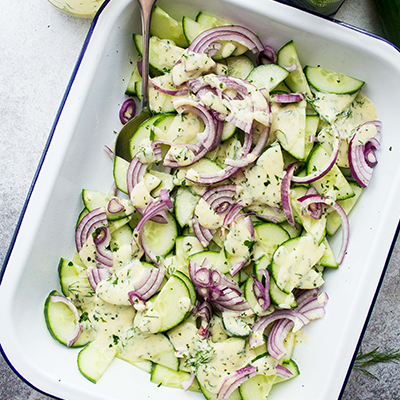 Ingredients
For the Salad
2 English cucumbers, sliced
1 red onion, thinly sliced
For the Dressing
1/4 cup nonfat plain yogurt
1 Tbsp. STAR Extra Virgin Olive Oil
1 small lemon, juiced
1/2 Tbsp. Dijon mustard
1 clove garlic, minced
1 Tbsp. chopped fresh dill
1 Tbsp. chopped fresh parsley
Salt and fresh ground pepper, to taste
Instructions
Combine sliced cucumbers and onions in a salad bowl; set aside.
Combine yogurt, extra virgin olive oil, lemon juice, mustard, garlic, dill, parsley, salt and pepper in a jar fit with a lid; close the jar and shake it until everything is thoroughly combined.
Check for consistency and add more olive oil to thin it out; add more yogurt to thicken it.
Taste for seasonings and adjust accordingly.
Drizzle salad dressing over cucumbers and onions; toss to coat.