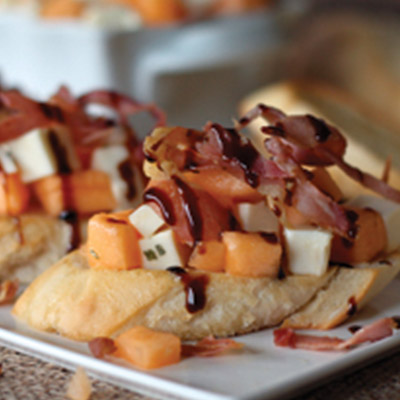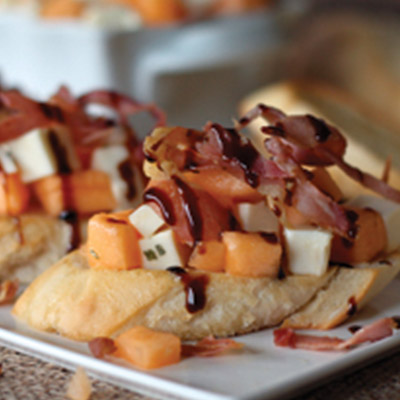 Ingredients
1/2 Cantaloupe, skinned and diced
8 oz. Mozzarella, diced
1/4 cup Basil, chiffonade
1 loaf French Baguette, sliced on the bias

Note:

Because cantaloupe is so juicy, do not place on baguette slices until you are ready to serve to ensure the bread stays crispy.
Instructions
In a large bowl, combine cantaloupe, mozzarella and basil. Gently toss to combine. Set aside.
Turn on oven broiler and place rack nearest to the element. Lay sliced baguette onto a baking sheet and drizzle or brush with garlic olive oil. Place bread into broiler to toast. Remove once golden brown and allow to cool.
In skillet over medium high heat, fry the thinly sliced prosciutto ribbons until they are crispy. Remove from skillet and drain on a paper towel. Set aside.
To assemble, top each slice of baguette with a generous portion of cantaloupe/mozzarella mixture. Top with fried prosciutto and then drizzle STAR Modena Balsamic Glaze over the top. Serve and devour.