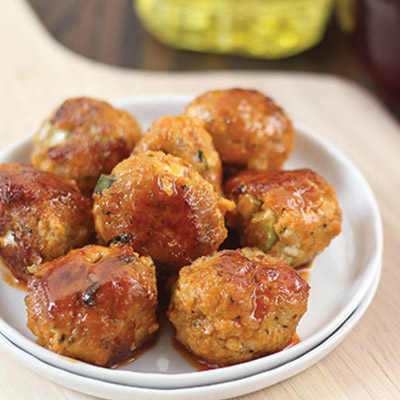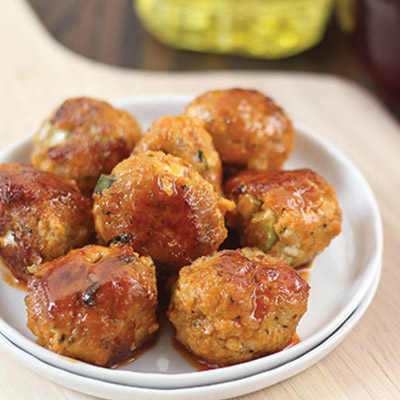 Ingredients
For the meatballs:

2 lbs. ground white meat chicken
2 green onions, sliced
2 celery stalks, finely chopped
1 clove garlic, minced
1/2 cup hot wing sauce
1/2 cup blue cheese crumbles
3 tsp. ranch dressing mix
1/2 tsp. salt
1/2 tsp. cayenne pepper
1 egg
1 cup breadcrumbs
STAR Grapeseed Oil, for frying

For the meatball sauce:

1 cup hot wing sauce
1 Tbsp. butter
2 Tbsp. STAR Grapeseed Oil
3 tsp. brown sugar
1 1/2 tsp. STAR Garlic Wine Vinegar
1/4 tsp. cayenne pepper
Instructions
Line a 10×15 rimmed baking sheet with parchment paper, set aside.
Mix the ground chicken, green onions, celery, garlic, hot sauce, blue cheese, dressing mix, salt, cayenne pepper and egg in a large bowl. Add the breadcrumbs, 1/4 cup at a time until the mixture will hold together well. Roll the mixture into 1-inch balls and place in the prepared baking pan. Refrigerate for 30 minutes.
While the meatballs chill, heat the hot sauce, butter, grapeseed oil, brown sugar, vinegar and salt in a small sauce pot over low heat and whisk to combine. Whisk occasionally until bubbles form around the edges. Allow the sauce to bubble for about 5 minutes and then remove from the heat. The sauce should thicken slightly.
After chilling, remove the meatballs from the refrigerator. Heat a large non-stick skillet over medium heat. Add about 1/4 – 1/2 inch of grapeseed oil. Once hot, add a single layer of meatballs and cook for about 4 minutes, then flip them, and cook for an additional 4 minutes. The meatballs should be browned and cooked through; if not, allow them to cook for a couple more minutes, flipping often. Transfer to a paper towel-lined baking sheet and repeat with the rest of the meatballs.
Transfer the cooked sauce to a large bowl. Add the meatballs about 10 at a time and toss to coat. Transfer the coated meatballs to a serving dish and repeat with the others.Serve warm when done.