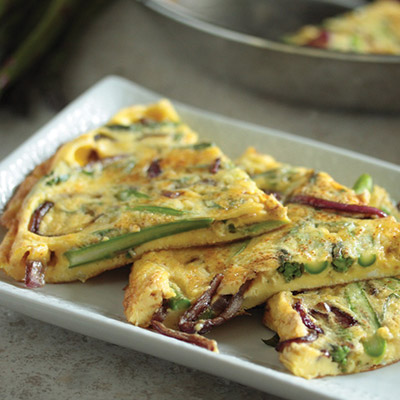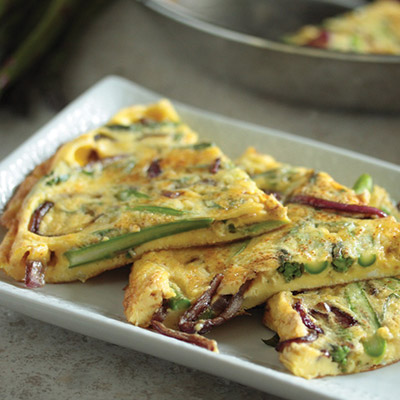 Ingredients
Balsamic Onions

2 Tbsp. Butter
½ cup Red Onion, thinly sliced
3 Tbsp. STAR Balsamic Vinegar
5 Eggs
¼ cup Heavy Cream
2 Tbsp. Butter
1 cup Asparagus, sliced into half lengthwise and into 3" sections
½ tsp. Cayenne Pepper
¼ tsp. Salt and Pepper, each

Jalapeno Cheddar Hollandaise

½ cup Butter, melted
2 Egg Yolks
¼ cup Jalapeno Cheddar Cheese
Salt and Pepper To Taste
1 Tbsp. Lemon Juice
1 Tbsp. Water
Instructions
Caramelize Balsamic Onions:

Heat skillet over medium heat. Melt butter and when slightly bubbling, add in sliced onions and stir to coat. Stir the onions frequently over medium heat until they start to turn a caramel color. During the last minute, add in balsamic vinegar to deglaze pan and coat onions. Remove from heat and set aside.
Frittata:

Set oven rack nearest to the broiler. Preheat the broiler.Let medium skillet (with oven safe handle) heat over medium high heat for about five minutes. In bowl whisk together eggs and heavy cream, set aside. Add butter to the skillet and bring to simmer. Add in asparagus and balsamic onions. Pour over egg/cream mixture. Things will happen quickly – shake the skillet to ensure the eggs don't completely stick to the bottom. Run your spatula around the edge of the frittata to make sure it doesn't stick. Sprinkle cayenne pepper, salt and pepper onto the top of frittata.Let the edge set in the skillet for about 2-3 minutes. Immediately transfer to oven under the broiler. Let cook until the frittata starts to turn golden brown on top. Remove from broiler and slice and serve while warm. Top with hollandaise.
Hollandaise Sauce:

In medium bowl whisk together egg yolks, lemon juice and water until light yellow. Set aside. In small saucepan melt butter. Add 1 tablespoon of melted butter into egg yolk mixture, whisking constantly until all butter has been whisked in. Pour all egg/butter/lemon mixture back into the sauce pan and over medium-low heat continue to whisk the hollandaise sauce until warmed through and thickened. In last minute, whisk in the cheese and whisk until melted through. Serve immediately. Season with salt and pepper if desired.