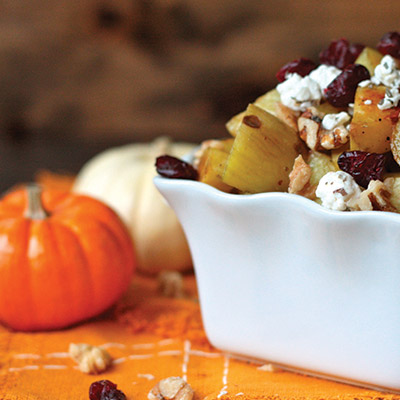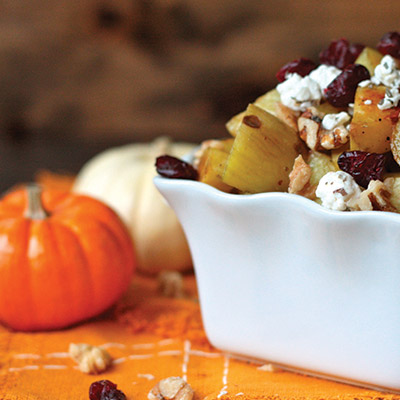 Ingredients
2 Large Sweet Potatoes, Cubed
½ tsp. Red Pepper Flakes
½ tsp. Rosemary
¼ tsp. Thyme
2 cloves Garlic, minced
Salt and Pepper to Taste
4 Tbsp. STAR Roasted Garlic Oil
¼ cup Chopped Walnuts
¼ cup Dried Cranberries
¼ cup Crumbled Goat Cheese
Instructions
Preheat oven to 400 degrees.
Using a peeler, peel the skin off two large sweet potatoes. Cut into cubes. Place in large bowl. Toss with Star Family Reserve Creamy Balsamic Glaze, red pepper flakes, rosemary, thyme, garlic and salt and pepper to taste. Throughly coat sweet potatoes with ingredients.
Line a baking sheet with aluminum foil. Drizzle baking sheet and aluminum with garlic olive oil. Pour all sweet potatoes onto the baking sheet. Bake for 15 minutes. Gently remove baking sheet from oven, turn potatoes, and return to oven for 15 more minutes or until the sweet potatoes are fork tender.
Place in serving dish. Garnish with chopped walnuts, cranberries and goat cheese. Serve while warm and devour.